Say No to SB-866 and Say No to adding the C-19 Vax to SB-871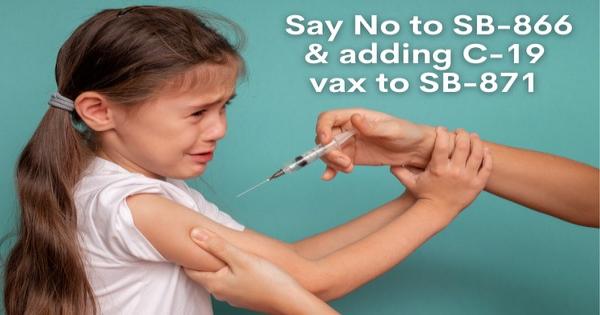 Issues
Two Bad Bills have just been introduced in the California Senate. Please join us in this campaign to urge all California Senate and Assembly Members to Vote NO on these Bad Bills.
On January 21, 2022, Senator Scott Wiener and co-author Senator Josh Newman introduced Senate Bill-866 in the California state legislature that will lower the age of consent for all vaccines from 18 to 12 years old.
This means children ages 12 through 17 can, without a parent's knowledge or consent, receive the COVID vaccine at school, at a walk-in clinic or pharmacy, or any other vaccine site.
Senate Bill 871 proposed by Senator Pan (D-Sacramento) this week, aims to add the COVID-19 Vaccine to the list of already mandatory immunization schedule required for students (K-12) to attend school. Students will be required to get the COVID-19 vaccine to attend school by January 1, 2023, even without Full FDA Approval. This Bill will also remove any Personal Belief exemptions that would allow parents not to vaccinate.
This campaign is aimed to make sure Senator Pan know tens of thousands of parents across the state are vehemently against this bill and tell CA legislatures to say NO as well!
Senator Pan's reasoning… "It's to protect the other children and their families because they have rights as well." He also said that, "parents have a choice not to vaccinate their children, but there will be consequences."
It is NOT a choice if you are required to give your child an experimental drug in exchange for in-person learning!
We've seen, and the CDC has admitted:
– The vaccine does not prevent infection or transmission
– Children are not vectors of transmission for this virus
– Children have a statistically 0% chance of death
So how would this bill ensure any safety of any other children?
It is a gross misrepresentation when Pan says these vaccines are safe and effective, especially now with known and verifiable vaccine injuries and mortality in the pediatric population.
According to the CDC, children are at a statistically 0% risk of serious illness or death from COVID-19. The CDC also acknowledges, the vaccines do not prevent infection or transmission of the virus. Vaccine efficacy against Omicron is down to 27%, far below the 50% threshold required for FDA approval. Therefore, there is no need to vaccinate children against Covid.
On the other hand, there have been 41 reported deaths after COVID-19 vaccine among children aged 0 to 17. There have also been 602 reports of myocarditis and pericarditis among and 51 reported cases of blood clotting disorders among children. It is evident that these vaccines carry serious risks for children.
Vaccine mandates override the right to provide informed consent for this medical intervention, which is a requirement for all vaccines, by not allowing patients or parents to make their own decisions. Considering the low COVID-related risks for healthy children, the risks associated with the vaccine, declining vaccine efficacy against new variants, the protection from any liability for vaccine manufacturers, it should absolutely be the right of every parent to decide whether to vaccinate their child.