Moms for Liberty Calls for Candidates and Communities to Sign their "Parental Pledge" Acknowledging Parents' Role in Public Education

Join our Partners at Moms for Liberty in signing the Parental Pledge!
The nationwide advocacy group for the empowerment of parents, Moms for Liberty, launched a new "Parent Pledge" for all 2022 candidates to sign in acknowledgement that public school parents have a fundamental right to be involved in the classroom and the education of their child.
The pledge says that candidates, public officials and concerned citizens will "honor the fundamental rights of parents, including, but not limited to the right to direct the education, medical care and moral upbringing of their children." The "Parent Pledge" for candidates is available: https://www.momsforliberty.org/pledge/.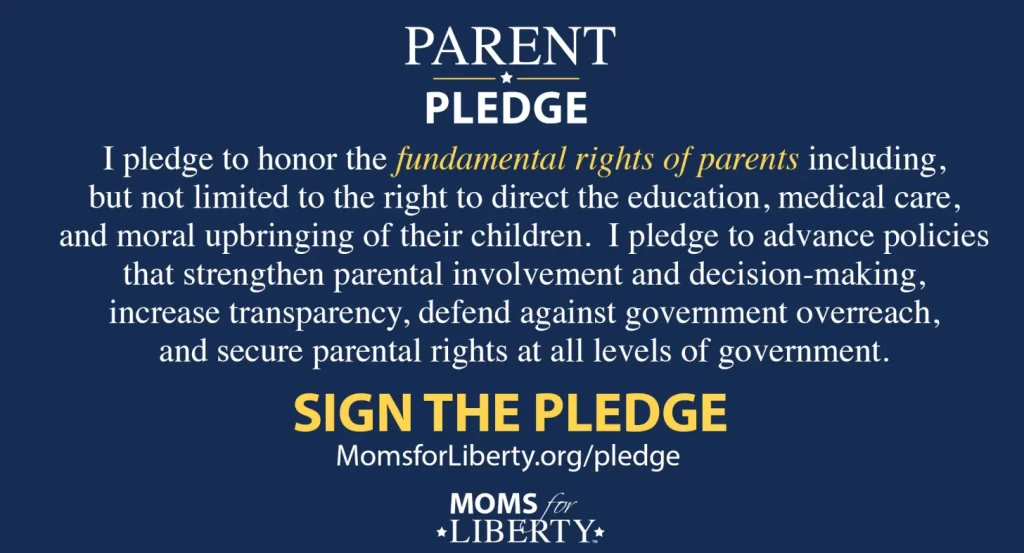 Moms for Liberty Co-Founders Tiffany Justice & Tina Descovich said, "The Covid pandemic awakened parents to how shut out they were from the public education establishment. Now, they will never go back to sleep. This Parent Pledge will help parents know which candidates to vote for in November – from school board to statewide elected positions across the country. We are committed to staying involved in the education of our children in public school, even if this threatens the power of unions who have controlled school boards for decades. Teachers unions continue to talk more about 'banning books' than reading books – and our children's literacy rate is now at an all-time low, due in no small part to the lock-downs, shut-downs and mandates that they pushed."
BACKGROUND:

News reports on the National Center for Education Statistics (NAEP) revealed that national reading scores for 9-year-old Americans decreased more between 2020 and 2022, than they did in the 30 years prior. Moms for Liberty now has 230 chapters across 40 states around the country.

Moms for Liberty is dedicated to fighting for the survival of America by unifying, educating and empowering parents to defend their parental rights at all levels of government.

Our founders are Tiffany and Tina, moms on a mission to stoke the fires of liberty. As former school board members, they witnessed how short-sighted and destructive policies directly hurt children and families. Now they are using their first-hand knowledge and experience to unite parents who are ready to fight those that stand in the way of liberty.

Twitter: @Moms4Liberty

Facebook: @MomsforLiberty

Instagram: @Moms4Liberty